Product Description:
New model from GQ Electronics LLC, Seattle, USA
This GQ GMC-500 Geiger counter is a portable nuclear radiation detector. It detects Beta, Gamma, X-Ray Radiation and can be used as continuous radiation monitor or used as personal dosimeter.
Nuclear radiation is invisible but threatening to human health, environment safety. This meter detects and visualizes the radiation real time and record the historical data for future analysis.
The thoughtful design provides easy-to-use basic features as well as advanced features for user to explore.
Features:
WiFi ready for upload data
Accumulative dosimeter for personal use

Independent calibration

Fast reading in a couple of second

Data logging record first, playback later

Large display provide more information

Adjustable backlight and contrast

GMC data viewer iOS App

Open protocol

Swivel display
Feature Demonstrations: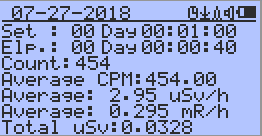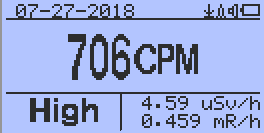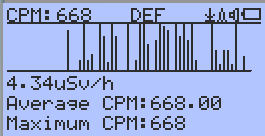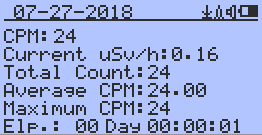 Items in Package:
USB cable - Mini-USB Type B (M) to USB Type C (M)

GMC 500 Device Unit (Tube installed: M4011)

Black Anti Dust Bag

User Guide & Safety Card
Product Applications:

Tests food, water from a polluted environment.
Protects you from overdose X-Ray radiation from hospital/cancer treatment.
Tests antique, building material.
Always a good choice for you to make sure your new house is safe in radiation level.
Perfect choice for analyzing data for science project.
More details and further information:
Please check our Technical Resources for:
User interface simulation software

Menu interface screen copy

Operation model illustration

Software interface (window base)
Product Details
Display
Dot matrix with back light, 128x64
Gyroscope
Yes
Internal Flash Memory
1MB
Power
3.6V/3.7V battery / USB power
Power Consumption
0.045W - 0.2W
Wifi Module
Yes
Working Voltage
3.2-4.0V
Radiation
Detectable Energy Range
0.1~3.0 MeV
Detection CPM Range
0-655350 CPM
Detection Dose Range
0-4250 uSv/h
Own Background
0,2 Pulses/s
Radiation detection
Beta, Gamma and X-Ray
Tube Installed
M4011
GMC-500 Geiger Counter Radiation Monitor
Related Products
Tags: Geiger Counter, Radiation detector, Nuclear radiation detector