Description:
---
GQ AIR QUALITY MONITOR- AIR 700 Series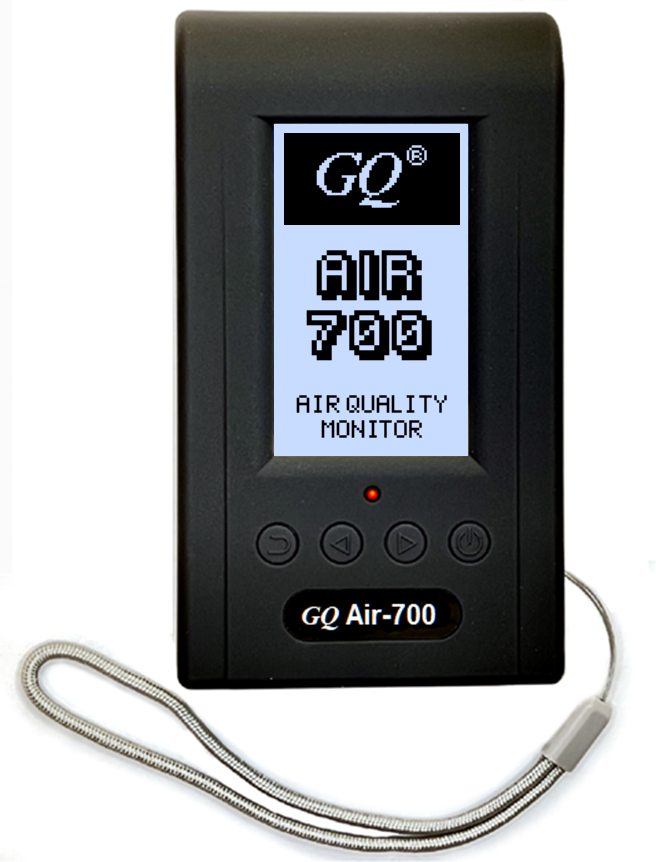 Description:
GQ air quality monitors are a serial products that are ableto detect air quality around users personal air environment. They are designed and developedby GQ Electronics LLC, Seattle, USA. Those monitors are portable, hand-held, convenient, and also have the real-time measurement that can accurately evaluate multiple measures ofair quality.
Model Air-700 Series measure concentrations of HCO (Formaldehyde),Temperature, Air Pressure in real-time display. This air quality monitor is featured with easy operational pressed buttons and installed with a high contrast black/white LCD module and one front LED indicator. The LCD display screen offers users a real-time data monitoring. 
 The device comes with built-in audible and visual alarm. It can be used for HCHO detection and monitoring both indoor and outdoor. Users can change and set the alarm triggering threshold level on each type of testing. The alarm beeps are to remind you that the air quality is unhealthy and you may need to take action. 
The device is equipped with a USB port, utilized for communication and external power supply/charging of the internal rechargeable battery. Using external power, continuous data monitoring is possible. Using an external power source, you will not have to worry about the battery's charge condition or any data loss.
The GQ Air-700 series have the history mode which allows you to save data every minute. It gathers measurements every second then calculates the average every minute and logs the data to the device storage to view in History mode. 1 minute average readings are saved every minute to view later either on device or with GQ AIRPRO software. The internal memory can store up to 18 days historical data. Users are able to download the history data to a computer for further analysis. The device integrated a real-time clock on board to provide the true timestamps for history data recording.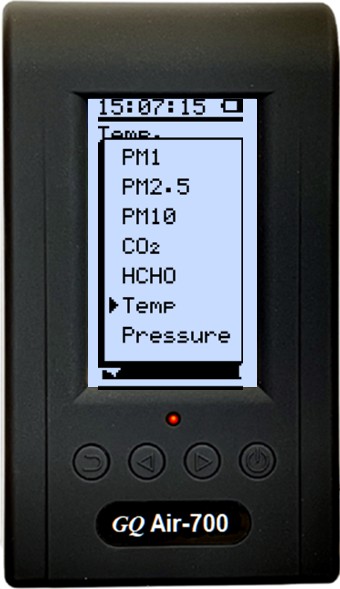 The USB driver and software are available to obtain at GQ Software Download page: https://www.gqelectronicsllc.com
•The driver: USB Driver, CH341SER.exe
•The software: GQ AIRPRO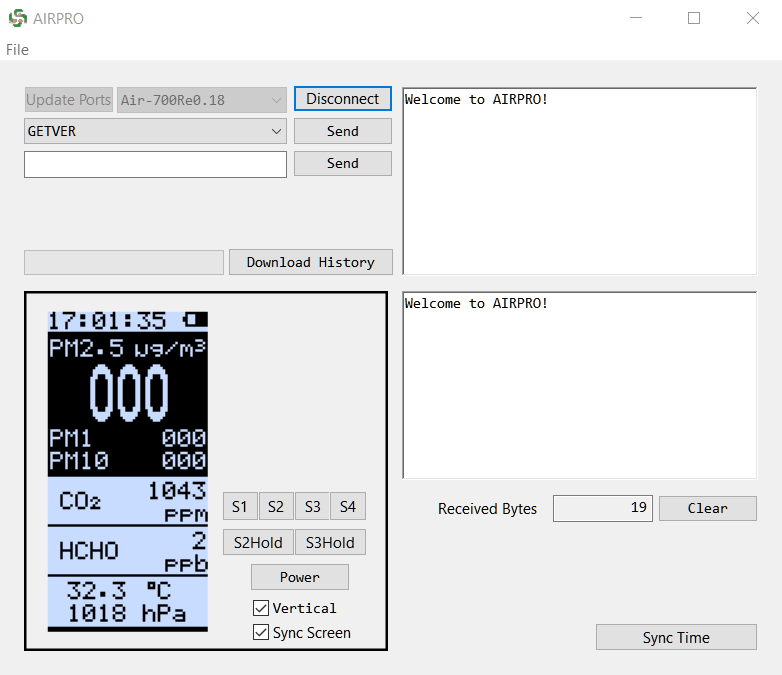 Product Features: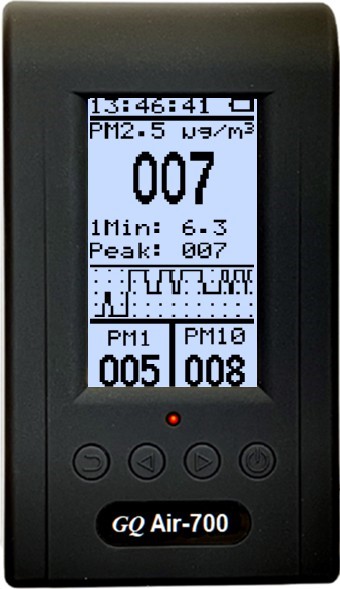 Small, portable hand-held

Audio and visual indication

Dot matrix LCD digital display model with back light.

USB Data port for connection with computer/PC/laptop GQ software

Battery charging feature for charging internal battery.

USB DC input port for external power input, so that continually monitoring become possible.

Built-in battery charging circuit

On-board real-time clock, temperature sensor, speaker and electronic gyroscope

Accepts both rechargeable and non-rechargeable 3.6V/3.7V battery

Dimension: 5'x2.85'x1'
Open Communication Protocol
GQ AIR-700 Series provide open GQ-RFC2101 communication protocol for easier system integration. User is able to send command to operate the meter remotely. See software download section for detailed GQ-RFC2101 protocol.
Model Selection Table:
| | | | | | |
| --- | --- | --- | --- | --- | --- |
|   | PM1, PM2.5, PM10 | CO2 | HCHO | Temperature | Pressure |
| Air-700 | ✘ | ✘ | ✓ | ✓ | ✓ |
| Air-710 | ✓ | ✘ | ✘ | ✓ | ✓ |
| Air-720 | ✘ | ✓ | ✘ | ✓ | ✓ |
| Air-730 | ✘ | ✓ | ✓ | ✓ | ✓ |
| Air-740 | ✓ | ✘ | ✓ | ✓ | ✓ |
| Air-760 | ✓ | ✓ | ✓ | ✓ | ✓ |

Product Specifications: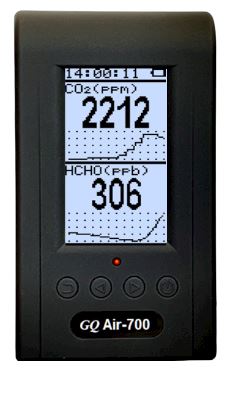 • HCHO (Formaldehyde)
o Range: 0 – 1000 parts per billion (ppb)
o Accuracy: ±30 ppb or ±10% whichever is greater
• Temperature
o -40 to 85 °C
• Pressure
o 300 to 1100 hPa
Package List
1. GQ Air-Series main unit.
2. USB cable for battery charge and USB communication
3. Quick start guide
4. Download link for a complete user guide in PDF version.
Caution:
1. Avoid measuring when battery is low. (The unit will stop working if the battery voltage falls below 3.3V, which may happen before the battery level shows 0%) Do not get the meter wet. Use a sealed plastic bag if measuring in the rain.
2. Turn off the unit when not in use in order to conserve the battery.
3. When the unit is not in use, store it in a dry place or box. This will avoid oxidation of the mechanical parts, such as the button or battery contacts.
For technical support, please visit our support forum: http://www.gqelectronicsllc.com/forum/default.asp
Warranty:
One year Factory warranty
---